Bicycle Accidents
Serving All Areas of Maryland, Washington, DC and Northern Virginia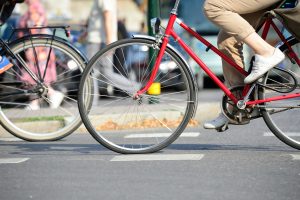 In an urban environment like Washington, D.C., bicycles are a popular way to get around the city. Over the years, however, serious and fatal bicycle accidents have been on the rise in the District. Between 2005 and 2010, there were an average of 334 bicycle crashes every year in Washington, D.C.
Because the human body is virtually unprotected in a bicycle crash, the injuries caused by these accidents are often catastrophic. Few bicyclists walk away from a collision without a serious injury.
At Mesirow & Associates, PLLC, we help bicyclists who have been injured due to the negligence of motorists. If you have been hurt in a bicycle crash in Metro D.C., you can't afford to go without experienced legal help. You may be entitled to compensation, but only if you act quickly to protect your rights.
Locations, We Are Serving For:
Maryland
Washington, DC
Northern Virginia
The Dangers Bicyclists Face
Bicyclists represent just one percent of all trips taken in the United States, but they account for a disproportionately high number of accident-related injuries and deaths. According to the Centers for Disease Control and Prevention (CDC), bicyclists have higher rates of injuries and fatalities than motorists and vehicle passengers. In 2013 alone, there were nearly 500,000 emergency room visits for bicyclists hurt in crashes.
Many avid bicyclists will tell you that sharing the road with cars and trucks is a hazardous undertaking, and most experienced bicyclists have a tale or two of being forced off the road, brushed by a vehicle, or verbally assaulted by a motorist.
Unfortunately, many motorists are unaware that bicyclists have the same rights on the road as the driver of a car, truck, or motorcycle. Too often, drivers attempt to pass a bicyclist too quickly, or to intimidate a bicyclist into moving off the road. Any time a motorists tries to use their vehicle as a weapon, a bicyclist can get seriously hurt.
At Mesirow & Associates, PLLC, we represent bicyclists who have been injured in a wide range of crash types. Some of the more common bicycle accident injuries we see include:
Broken bones
Lacerations
Damage to internal organs
Road rash injuries
Amputations
For many of the clients we represent, recovering from physical injuries following a bicycle accident is just one part of their overall recovery. Many bicycle accident victims must also contend with emotional and mental trauma caused by being involved in such a violent, serious accident. Being struck by a car when you are on a bicycle is a harrowing experience. It's not unusual for bicyclists to struggle with post-traumatic stress linked to their experiences during the crash.
Work with An Experienced Washington DC Bicycle Accident Lawyers
If you have been injured in a bicycle accident, or you have lost a loved one in a bicycle crash involving the driver of a motor vehicle, you may be entitled to compensation for your injuries and other losses. The Washington DC bicycle accident lawyers at Mesirow & Associates, PLLC are available to speak to you today about your case. Schedule your free case evaluation right now by calling 866-463-0303.