Construction Accidents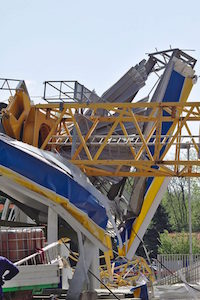 Getting hurt on the job as a construction work impacts both your health and your ability to put food on the table for your family. When you're injured at work, you have to deal with worries about your health and your financial future. And when your job depends on your ability to swing a hammer, climb a ladder, or perform physically-demanding tasks, any type of work-related accident can be terrifying.
At Mesirow & Associates, PLLC, we are proud of the work we do for our friends and neighbors who work construction. These professionals are some of the most hard-working people in any industry, and the infrastructure of our country depends on their commitment to putting in a hard day's work. When they are injured, they deserve more than a fair shake — they deserve full and fair compensation for their injuries. Our Washington DC construction accident attorney work hard to make sure they get it.
Some of the main areas we serve can be found below:
Maryland
Washington, DC
Northern Virginia
The Construction Accident Cases We Handle
Most construction professionals work long hours, and many work in challenging environments. Construction work doesn't stop just because it starts raining or snowing. Whether the sun is blazing overhead, or the city is plunged into a deep freeze, the work must go on.
Construction sites are also filled with dangerous equipment and hazardous conditions, including scaffolding, ladders, and heavy machinery. These conditions can lead to catastrophic injuries — especially when a work site is unsafe to begin with. At Mesirow & Associates, PLLC, we regularly handle the following types of construction accident injury cases:
Blunt trauma caused by falling objects
Amputations
Hearing loss
Vision loss
Scaffolding injuries
Exposure to toxic chemicals
Injuries caused by detonations, implosions, and explosions
Ladder and height-related injuries
Injuries caused by defective equipment
Injuries caused by failure to follow safety protocols
Construction companies, general contractors, and builders have an obligation to provide their workers with the proper training and equipment. When they fail to offer adequate safety training, equipment, and procedures, construction workers can get seriously hurt, putting them out of work and their families in jeopardy.
Third-Party Construction Accident Claims
In many cases, injured construction workers are entitled to workers' compensation benefits. However, these benefits are not always enough to cover the costs associated with a serious construction injury. In other cases, workers are not covered by workers' compensation insurance, either because their employers aren't required to purchase workers' compensation insurance, or because they are independent contractors who are not legally entitled to workers' compensation benefits.
Depending on the facts surrounding your case, you may be entitled to file a third-party personal injury claim against the company, manufacturer, or individual responsible for causing your construction accident injury. For example, if a piece of machinery malfunctioned because it was defective, you may have a claim against the machine's manufacturer. If you are covered by workers' compensation, you can still collect your workers' compensation benefits while you pursue a third-party personal injury claim. Because these are complex cases, it's important to speak to a lawyer as soon as possible to protect your rights.
Talk to a Washington DC Construction Accident Attorney Today
If you have been injured on a construction site, don't wait to speak to a lawyer. You have a limited time to file a claim. Protect your rights by discussing your case with a lawyer right away. Call the Washington DC construction accident attorney at Mesirow & Associates, PLLC to get help with your injury case. Help is available 24/7. You can reach us right now through our online contact form, or by calling 866-463-0303.