Injuries to Minors and Children
Serving All Areas of Maryland, Washington, DC and Northern Virginia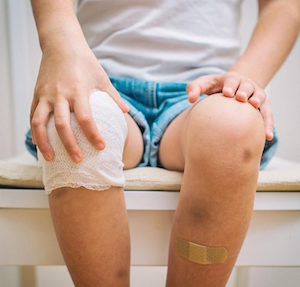 No parent should ever have to watch their child recover from a serious personal injury. Unfortunately, accidents aren't limited to certain age groups. When kids are hurt in car accidents and other accidents, their injuries may result in lifelong consequences.
In cases of serious injury, a child may be forced to spend the rest of his or her life in a wheelchair. In other situations, an accident or injury prevents a child from pursuing a certain career path or even marrying and having a family.
At Mesirow & Associates, PLLC, we are Washington, D.C. personal injury lawyers who help parents and caregivers cope with the aftermath of an injury involving a child or minor. These are complicated and emotional cases. It's important to work with a law firm known for getting exceptional results for children and their families.
We have earned a reputation for providing our clients with the compassion, advice, and support they need as they pursue justice and compensation for injuries to their child or loved one.
Some Of The Main Areas We Serve Can Be Found Below:
Maryland
Washington, DC
Northern Virginia
When Injuries Happen to Children
Unfortunately, children are prone to certain types of personal injuries. Because they are small, they can sometimes be difficult to spot. This can cause motorists to strike a child on a bike or on foot. Children at play are also vulnerable to negligent and distracted motorists.
Children are also more likely than adults to be seriously injured as a passenger in a car accident. In 2014, over 121,000 children under the age of 12 were injured in car accidents. The same year, over 600 children were killed in motor vehicle crashes.
In addition to our work representing families whose children have been involved in car accidents, we also serve clients in the following types of child injury cases:
Playground injuries
Injuries at school
Daycare injuries
Injuries caused by defective toys
Sports-related injuries
Birth injuries
Defective car seat injuries
Swimming pool accidents
Amusement park injuries
Although children and minors can't file a personal injury lawsuit on their own, their parents and, in the absence of parents, caregivers have legal standing to file a lawsuit on their behalf.
Get the Compensation Your Child Deserves
Although no lawyer can tell you exactly how much compensation you will receive in your case, an experienced personal injury attorney can review your case and give you an idea of what you and your child can expect to recover. Generally, there are two types of damages in personal injury cases: economic and non-economic damages.
Economic damages include losses that can be easily calculated. These damages can include medical expenses, such as doctors' bills and emergency room bills. They may also include the loss of your child's future earning potential.
Non-economic damages, which are sometimes also called "special" damages, are more difficult to calculate, but they are very real. These types of damages can include compensation for pain and suffering and the loss of quality of life.
Talk to a Metro D.C. Child Personal Injury Lawyer Today
If your child has been hurt due to another person's negligence, it's important to get experienced legal help right away. The Washington, D.C. child personal injury lawyers at Mesirow & Associates, PLLC can help. Schedule your free case evaluation today by calling 866-463-0303.