Directions
By METRO:
Take the Red Line to the Dupont Circle station
Exit on the Dupont Circle South side
When you emerge from the escalator, walk across 19th Street and head south (downhill, and with traffic)
Turn right on Sunderland Place (about 50 yards down 19th Street)
Our building is 1307 New Hampshire Avenue, at the end of the block on the right (a large Victorian mansion)
Walk past the main entrance and you will see an elevator (with our sign – "Mesirow & Associates" – next to it)
Use the call box to contact us and we will send the elevator down for you
By motor vehicle:
Use the following hyperlink to MapQuest to get internet directions from your location:
Click here for a Mapquest Map.
Also see the map below: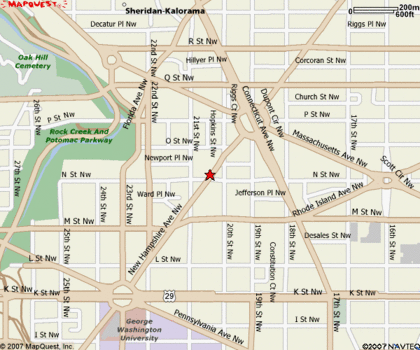 Parking:
Street parking can be hard to find, but it's usually worth spending a few minutes looking for a spot. Public parking can be found at the following locations:
On both sides of N Street in between 19th and 20th Streets (note that 19th Street runs one-way south and 20th one-way north)
At 1233 20th Street (in between M and N; closer to N)
At 2001 M Street (on the left side of the street)
---
Mesirow & Associates, PLLC
1307 New Hampshire Avenue, N.W.
Suite 400
Washington, D.C. 20036
(202) 463-0303