Common Bicycle Accident Injuries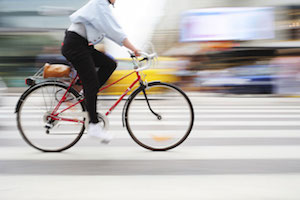 When most people hear the phrase "car accident," they think about the occupants of the cars involved. However, bicyclists can also be seriously hurt in a car crash. Bicyclists are also more likely to be killed in a crash compared to people inside vehicles. In 2014 alone, two people in the U.S. were killed every day in bicycle accidents.
Just because a bicyclist is fortunate enough to escape a crash with his or her life does not mean they emerge unscathed. Because the body is so vulnerable in a bicycle crash, many bicyclists suffer devastating injuries.
The top 4 Most Common Bicycle Accident Injuries
As Metro D.C. bicycle accident lawyers, we handle numerous bicycle accident injury cases every year. Although each case is different, there are certain types of injuries that tend to happen over and over again.
Head Injuries. Unfortunately, not every bicyclist wears a helmet, even though helmets have been shown to save lives and reduce the risk of injury. According to the Centers for Disease Control and Prevention (CDC), less than half of all bicyclists wear a helmet. Some people worry their helmet will mess up their hair. Other bicyclists don't like the way a helmet feels. Children and teens can also resist wearing a bike helmet because they worry about being bullied. However, wearing a helmet is the single most important thing a bicyclist can do to avoid suffering a serious traumatic brain injury or skull fracture.
Broken Bones. In many bicycle accidents, the bicyclist is thrown over the handlebars. When the body strikes the hard surface of the ground, it's common for the bicyclist to break bones. Many of these fractures require surgical repair, which can force a person to take time off work while they recuperate.
Facial Injuries. Lacerations to the face are also quite common in bicycle accident injury cases. In the 2016 Rio Olympics, Dutch cyclist and gold medal favorite, Annemiek van Vleuten, suffered three spinal fractures and serious lacerations to her face. When facial injuries are severe, they often require cosmetic procedures to restore function and appearance.
Spinal Cord Injuries. The human body is no match for a car or truck. In a crash, the spinal column can sustain serious injuries, leading to a host of medical problems that can include paralysis and loss of function. These are devastating injuries that can forever change a person's life. Staying Safe on a Bicycle
If you ride a bicycle in your neighborhood, during your daily commute, or even just for fun, there are several things you can do to stay safer on the road.
Always wear a helmet
Avoid distractions, like listening to music or wearing headphones
Make eye contact with motorists
Wear reflective clothing
Obey all traffic rules
Put reflectors on your bicycle
Maintain your bicycle, including tires
Although you can't control how other people drive on the road, you can reduce your chances of being involved in a serious accident by being a defensive driver when you're on your bicycle. Stay alert to your surroundings, and always keep an eye on the traffic around you.
Talk to a Metro D.C. Bicycle Accident Lawyer Today
If you have been injured in a bicycle accident, or you have lost someone you love in a bicycle crash involving the driver of a motor vehicle, you may be entitled to compensation for your injuries, property damage, and other expenses. The Washington, D.C. bicycle accident lawyers at Mesirow & Associates, PLLC offer free case evaluations. Call today to speak to an experienced bicycle accident lawyer about your case.