Why are Bicycle Accidents so Common in D.C.?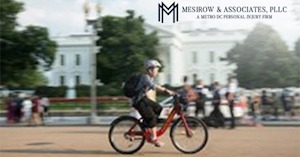 In recent years, the number of serious and fatal bicycle accidents in Washington, D.C. has risen steadily. Between 2009 and 2010, for example, D.C. bicycle crashes jumped from 353 to 436. In the same time period, fatal bicycle accidents rose from 264 to 336.
There are several reasons why bicycle accidents are happening more often in the District. Within the past few years, a growing number of people have turned to pedals instead of public transportation or taxis to navigate their commute.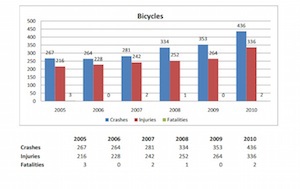 As reported by the Washington Post, bicycling has become a popular alternative to riding the Metro or hailing a cab—especially for people who live and work in the city's bustling urban core.
The success of bike-sharing companies like Capital Bikeshare has also contributed to the D.C. bicycling boom. In fact, the city is second only to Boston when it comes to the number of bicyclists on the streets.
Distracted Driving … and Biking and Walking
There are more bicycles on the roads in Washington, D.C., but there are also more distracted drivers (and bicyclists and pedestrians) than ever before—yet another reason why bicycle accidents keep rising.
Distracted Driving. When it comes to distractions on the road, most of the focus is on distracted driving. This makes sense when you consider how many accidents today are caused by motorists glancing at a text or dialing a phone number instead of keeping their eyes on the road ahead. In 2013, about one in five car crashes involved a distracted driver. The same year, over 420,000 people were injured in distracted driving accidents—a 10 percent jump from just two years before.

Distracted Pedestrians. However, it's not just motorists behind these surging numbers. Experts estimate that about 10 percent of pedestrian injuries are caused by "distracted walking." Pedestrians who look down at smartphones or listen to music as they walk are not fully focused on their route or their surroundings. In some cases, pedestrians have walked directly into busy traffic. A woman in a shopping mall walked into a fountain while looking down at her phone.

Distracted Cycling. Distracted biking is also on the rise and has prompted several states and municipalities to include bicyclists in laws that prohibit distractions like texting or listening to music through headphones. For example, Chicago and Philadelphia prohibit bicyclists from using handheld devices while they ride.
But not everyone is on board with stricter rules for cyclists. Lawmakers in other states say they have repeatedly introduced legislation to crack down on distracted cycling but have encountered difficulties getting others to rally behind the proposed laws.
Distracted bicycling bills have failed in California, Oregon, New York, and Virginia. Frustrated lawmakers say the bills often fail to get support because distracted bicycling is still a relatively novel and poorly understood concept.
What D.C. Is Doing to Reduce Bicycle Accidents
The District of Columbia has launched a safety awareness campaign specifically aimed at reducing the number of fatal traffic accidents on D.C. roads, with a significant portion of its efforts directed toward bicycle fatalities and serious injuries. To combat the problem, the District has taken the following steps:
Installation of pedestrian signals in more than 95 percent of signalized intersections.
Mandatory helmets for bicyclists under age 16.
Increased bike safety training for thousands of area children each year.
Bicyclists can also do several things to stay safer on the road. If you bike around D.C., always stop in a safe place before using your phone to text or talk. You should also avoid using earbuds or headphones that can prevent you from hearing vehicle horns and the sound of traffic as you ride.
Injured in a Bicycle Accident? Talk to a Metro D.C. Bicycle Accident Attorney Today
The human body is simply no match for a vehicle. If you have been injured as a bicyclist in a motor vehicle accident, you need an experienced and compassionate lawyer on your side. The Washington, D.C. bicycle accident lawyers at Mesirow & Associates, PLLC can help. Call today to discuss your case.