Where do Most Pedestrian Accidents Happen in DC?
Much like other busy cities throughout the United States, Washington DC is home to far too many pedestrian accidents.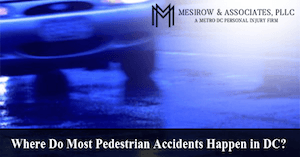 Although pedestrians have become more commonplace throughout major cities, unfortunately, many vehicle drivers have not adapted to this quite yet and therefor, put pedestrians at greater risk of being involved in a catastrophic accident.
Those individuals who are hurt on the road while trying to cross, or on a sidewalk, have the potential to sustain more catastrophic injuries than people inside cars.
Pedestrians do not have the benefit of a seat-belt airbags forward warning Collision systems or other technology is designed to prevent accidents or minimize their impact. If you or someone you know has been recently injured in a pedestrian accident in Washington DC, you may be entitled to file a personal injury claim against the responsible party.
The Washington Post recently compiled a list of all the most dangerous intersections for pedestrians in Washington DC.

In order to determine this they looked at the number of pedestrian injuries that happened at these intersections between 2004 and 2006. Ten years later, it is just as important to consider that these dangerous intersections could put pedestrians at risk.
Northwest DC is the Most Dangerous Quadrant
As the research shows 16/30 most dangerous intersections are located in the Northwest quadrant. During the period of analysis 105 pedestrian injuries took place. The majority of the tourist attractions including business locations like Dupont Circle U Street and K Street are all located in Northwest. Perhaps it is no shock that the majority of pedestrian accidents happen there.
However, the southeast and northeast quadrants have their own unfortunate share of pedestrian accidents. Here are some of the most dangerous intersections for pedestrians in Washington DC.
14th and U Streets, Northwest
A lot of a nightlife District in Washington DC is located in this area and thousands of individuals can be seen hitting the restaurants bars and clubs on weeknights and weekends. The number of pedestrians increases significantly on weekends.
Columbia Road and 18th Street, Northwest
Right in the middle of the bustling Adams Morgan neighborhood this has a high population density and many nightclubs all within walking distance of one another, and this means that pedestrians are at greater risk of an accident.
Minnesota Avenue and Benning Road Northeast
Right off the Anacostia freeway pedestrians are not very visible to Vehicles where drivers tend to be driving at a high rate of speed.
12th Street and Pennsylvania Avenue, Northwest
Near the National Mall and the Smithsonian office workers and tourists face a greater risk as a result of the FBI headquarters Federal triangle and the National Archives being located there. Tens of thousands of employees work and get lunch around this area. This area also attracts many tourists due to the proximity to the National Mall with all of its museums and monuments.
8th and H Streets, Northeast
A tremendous amount of development has happened in this section of Northeast DC, in recent years, and many of the new clubs and bars are located in this area.
14th Street and Spring Road, Northwest
Although this is a residential area, it is home to a high number of pedestrian accidents.
What to do if you have been recently involved in a pedestrian accident
If you have been recently hurt because someone was not paying attention behind the wheel of their car you may be entitled to file a personal injury claim. One of the most important things for any DC pedestrian to do is to get help from a knowledgeable pedestrian accident lawyer sooner rather than later.
This could be the turning point in your case that allows you to recover compensation so you can focus on getting better. Unfortunately, far too many pedestrian accidents happen in DC and many of them occur at the intersections listed above. To protect yourself take the necessary steps to always remain visible and follow traffic lights and guidelines at all times.
Get Help from DC Pedestrian Accident Attorney at DC Today
If you have already been in an accident and one of these intersections or somewhere else around DC, or in Maryland or Virginia you need to get help from an experienced lawyer sooner rather than later. Do not wait to get the help you need in this situation.
You've Been In A Car, Bicycle, Pedestrian or Motorcycle Accident. Now What?