Beware the Potential for "Security for Costs" When Representing a Nonresident Plaintiff in D.C. Superior Court
by Michael Martin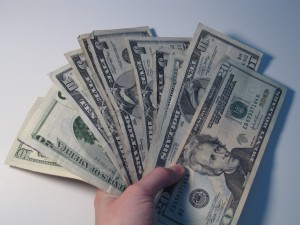 In a recent case filed in D.C. Superior Court on behalf of a plaintiff who lived in Ashburn, Virginia, the defendant filed a motion that I had ever seen before: one requesting that, because the plaintiff wasn't a D.C. resident, he put up $11,000 as security for costs in case the defendant prevailed. While we were ultimately successful in defeating the motion, it occurred to me that having to give security for costs could be devastating to a plaintiff's case if the attorney was not properly prepared to defeat it. Here's what I learned while researching for our opposition.
D.C. Code § 15-703(a) ("Security for costs by nonresidents") states, in part:
"The defendant in a suit instituted by a nonresident of the District of Columbia, or by one who becomes a nonresident after the suit is commenced, upon notice served on the plaintiff or his attorney after service of process on the defendant, may require the plaintiff to give security for costs and charges that may be adjudged against him on the final disposition of the cause."
Fortunately (or unfortunately, depending on your judge), per D.C. Code § 15-711, whether to require a nonresident to put up security for costs, and in what amount, is entirely within the discretion of the trial judge. Adding to the confusion is the fact that § 15-703 is not often invoked by defendants, and no standard exists to assist the judge in determining when to apply it. It has only been cited in two cases: once in the United States Bankruptcy Court for the District of Columbia, where the court held that application of § 15-703 is not mandatory in federal proceedings, In re Adamson, No. 09-00623, 2010 WL 122904 (Jan. 6, 2010); and in a D.C. Court of Appeals case in which the court stated that application of § 15-703 is at the discretion of the trial court, but did not supply a standard or test for doing so as the ruling was held to be not appealable, Landise v. Mauro, 927 A.2d 1026 (2007).
So if there's no caselaw to rely on, how does a plaintiff argue against, and hopefully defeat, a motion for security for costs? Well, if the plaintiff lives within 100 miles of D.C., you can argue that he or she is not the type of nonresident that the statute is designed to protect against. Other jurisdictions with similar statutes have enacted them to ensure that a person obligated to pay costs is within the reach of a court's process, see, e.g., Myrus v. Commonwealth Fuel Co., 198 N.Y.S. 1 (N.Y. App. Div. 1923; Chagnon v. Hofferman, 335 S.E. 2d 268 (Va. 1985); 20 C.J.S. Costs § 64 (2010); or to protect against out-of-state residents filing frivolous lawsuits against a resident of the jurisdiction, see, e.g., Yao v. Superior Court, 127 Cal. Rptr. 2d 912 (Cal. Ct. App. 2002). While there is no legislative history accompanying the passage of § 15-703, it is arguable that the statute is meant to similarly protect against a person owing money for costs, but being able to avoid doing so by being outside of the jurisdictional reach of the court.
Luckily for plaintiffs, it is highly likely that a nonresident plaintiff who is filing suit in Superior Court lives within reach of the court's process power. If a plaintiff fails to pay costs in a civil suit, he or she would likely be held in contempt of court, and according to D.C. Superior Court Rule of Civil Procedure 4.1(b), in a civil proceeding for contempt of court, service is valid within 100 miles of the District (this is much more expansive than the Superior Court's subpoena power, which is limited to within 25 miles of the court per D.C. Code § 11-942). This covers the entirety of the D.C. metropolitan area (and then some). Therefore, if the plaintiff lives within 100 miles of D.C., the statute is arguably inapplicable because the court has the power to enforce any judgment for costs irrespective of security.
This is in keeping with the remarks of the D.C. Court of Appeals in Shoppers Food Warehouse v. Moreno, 746 A.2d 320, 332 (2000) (en banc), that the "Metropolitan Washington, D.C. area functions, in many respects, as a unified legal and commercial community." A literal reading of § 15-703 would mean that residents of Arlington, Fairfax, Montgomery and Prince George's Counties, as well as the City of Alexandria, would all be treated as nonresidents when suing in the Superior Court, even though these residents are all functionally part of the same community. Hopefully your judge will see it that way, as ours did. In any case, if you are an attorney practicing in the Superior Court, be prepared to oppose a motion for security for costs when representing a nonresident plaintiff.